Chiropractic Care
Chiropractic is a drugless form of healthcare based on restoring and maintaining proper function of the spine. The spine provides structural support for the body, as well as, protection for the primary components of the nervous system.
Chiropractic philosophy is centered on promoting good health through relieving nervous system irritation. Nerve stress is removed through non-invasive, gentle manipulations called "adjustments." Adjustments not only restore proper spinal and nervous system function, but they also promote the body's natural healing process.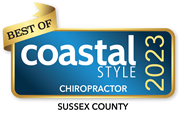 The
First State Health & Wellness
chiropractic approach concentrates on "maintaining health" versus "treating symptoms." Chiropractic healing acts at the cause of disease while relieving symptoms at the same time.
Chiropractic is very effective in treating conditions such as:
Knee, ankle or foot problems
Shoulder problems
Carpal tunnel syndrome
Work related injuries
and many other conditions
Keeping Athletes in the Game
Whether you're a marathon runner, weekend golfer or die-hard CrossFitter, you want to be at your athletic best. Natural chiropractic care offers one of the best ways to help you perform optimally and prevent injuries. The expression, "An ounce of prevention is worth a pound of cure" is particularly true when it comes to getting chiropractic care.
Athletes who come in every few weeks for preventative care can perform at their best functional ability and reduce their chance of getting injured. Here are some of the primary benefits of chiropractic care for athletes:
Increases flexibility
Improves mobility
Reduces injury recovery time
Offers drug-free pain relief
Don't wait for an injury to happen. Remember that it's much easier to fix a sports-related issue when it's small versus waiting until it gets bigger and becomes more difficult to manage.
Recognized for Our Excellence
Together, our team's collective efforts have been repeatedly recognized among the best in Delaware by The News Journal's annual Reader's Choice Awards, as well as the Better Business Bureau's prestigious Torch Award for Marketplace Ethics.
Book Your Consultation Today
You are invited to discover firsthand why thousands of Newark patients have visited First State Health & Wellness for prompt pain relief. Contact us for a free consultation and stop your suffering today!
REQUEST APPOINTMENT »

Chiropractic Care | (302) 454-1200