New Patients at First State Health & Wellness
What to Expect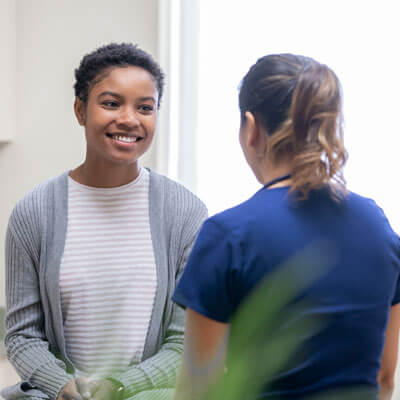 As a new patient, it is our priority to insure you feel welcomed, comfortable and have a clear understanding of the scope of our services. Our attentive front desk staff will be happy to answer questions and assist with scheduling your first appointment.
Once scheduled, you will be expected to complete the new patient intake form. For your convenience, these will be sent to you electronically via email or you can click the button below to access the forms. We also request that you bring any reports you may have from other medical offices regarding your condition to your first appointment. These are tremendously helpful as they give us a head start on getting a complete picture of your health.
Upon arrival at any of our
five locations
, you will immediately realize that you are in a place where the staff genuinely cares about your comfort and where all patients are treated as dear friends. It is important to us that our relationship can go the distance!
You will be invited to sign in and we will make a copy of your insurance card. Our dedicated financial department will make the necessary calls to verify your insurance information so that there is no ambiguity regarding your policy's coverage. Learn more about our insurance coverage and payment policies here.
Together we will discuss your health history and current concerns. Your chiropractor will assess what testing needs to be performed to make a proper diagnosis. After this comprehensive consultation and exam, you will receive your first treatment from the doctor.
Once finished, you will circle back to our front desk, where our staff will complete their check-out procedures and schedule your next visit.
During all subsequent visits, you will sign in at our front desk and have the opportunity to review any outstanding questions regarding your financial account and treatment schedule.
If you are scheduled to receive therapeutic modalities, you will be directed to a therapy room to receive treatment prior to seeing the doctor. Once completed, your doctor will meet with you in a private room to perform your chiropractic adjustments.
Get Started Today
It is our pleasure to be an integral part of your wellness team. Contact us today to get started with care, and be sure to ask us about our Complimentary New Patient Initial Consultation!*
CONTACT US »
*No referral required. Exam and treatment not included. Not valid for Medicare/Medicaid patients.

New Patients at First State Health & Wellness | (302) 454-1200